Forex Tester 3 Review
About This Product
This software is an updated version to help traders succeed more in the Forex trading market.
Features
You can follow multiple companies, trends, and currencies at once. This feature will help you decide which one is best for you. This software will also analyze and keep track of profit and loss tendencies. It can also keep track and analyze a lot of other trends to help you choose the best strategy for yourself and what you want to achieve.
This product can give you fully accurate content for the last fifteen years of data. You can choose from three different subscriptions levels to decide how much and how you receive the data. The basic membership will give you one minute data that is updated every month. The standard membership will also give you one minute historical data this is updated daily and reflects that top nine brokers; but you are not required to choose one of those nine brokers. The VIP subscription allows you to view a floating spread with tick data for the nine most popular brokers.
Once you choose a broker, you can make settings that will tailor specifically to that broker. You can also set up automatic strategies or you can even combine automatic and manual strategies and test them out. You can test multiple automatic strategies at once, and compare them. If you have no experience in creating an automatic strategy, Forex Tester 3 customer service will help teach you how to.
Another feature is that you can go back and look through your past strategies and see where you went wrong. This feature helps you fix any mistakes you have made in the past. This software is very reliable and helpful. Forex Tester 3 is a very interactive software, making it easier to understand and navigate. If you have MetaTrader 4, you can import information into Forex Tester 3. You can also apply any strategies you test on Forex into MetaTrader 4. This makes it so much easier to conduct proper forex backtesting.
You can customize your account to fit your preferences. You can use different types of charts, as well as choose how the charts look. One helpful feature in my opinion is that you can choose from twenty different languages for which one you want the software to be in. You can take screenshots of any tests you run so that you can keep a log of differences and learn better and easier. Forex Tester 3 also has an exceptional support staff that are always ready to answer any questions you have in extensive detail. They will also help you correct any issues you may be having.
Using This Software
This software comes with detailed instructions that make it easy to use and install. To begin, all you need to do is download the software that already has different currencies included, and then create a new strategy with whatever your preferences are. Next, start testing your strategy. You can keep doing this until you find the best strategy that fits your needs. If you use MetaTrader 4, this software will be even easier to use and feel familiar to you. Downloading the software from the website is just a month-long trial, you will not receive all the benefits unless you fully purchase the software.
When you purchase this software, it includes a tool to calculate risks and manage money, ten manual trading strategies that are simple, an expert adviser, and many more helpful features. You can add indicators to any chart and strategy at any time. Adding indicators can help you customize strategies to find out which works the best for you. This software is all about your own preferences and helping you succeed in the Forex trading market.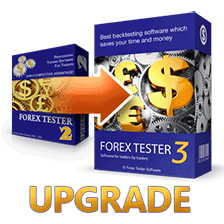 There are plenty of tabs to help you throughout the process of testing a strategy. You can even save strategies, so you can look back on them later. You can add lines and change the look of charts using the insert tab. There are also graphics within the toolbar for easier access to inserting options. You can also set up a specific template and save it to use later. You can set up strategies in the expert adviser tool that will start and close testing automatically, based on what you choose.
Pros
• Total customization available
• The software is available in twenty different languages
• Exceptional customer service that replies in a timely manner
• Prepares you how on how to use MetaTrader 4
• Import information and data to and from MetaTrader 4
• Very simple instructions to install and use the software
• Back test a new technique in a simple way
• Tracks all your data, helping you improve your strategies
• Includes ten simple to use manual strategies
• They will teach you how to set up an automatic strategy
• You can combine manual and automatic strategies
• Look at multiple charts at once
• Adjustable market speeds
• Provides information from the past fifteen years
• Multiple subscriptions to choose from
• Very interactive tools and features
• You can add indicators
• Basic subscription has no monthly fees
• Standard and VIP subscriptions update daily
• You can save templates that you create
Cons
• Monthly fees for certain data
• Indicators must be added in a specific format
• You must always be connected to the internet
• You will get used to automated trading, which you don't always want to do when trading for real
• Forex Tester employees charge you to add indicators
• The basic subscription only updates once a month
• You have to rewrite data from MetaTrader 4 in order to apply it to Forex Trader 3
Conclusion
This software is great for anyone that wants to test strategies to successfully trade in the Forex market. It can also prepare you to use MetaTrader 4 for trading; both products are very similar. Being available in twenty languages means that anyone in the world can learn. If you are unsure of how to use the software, they will teach you! It can be a great investment if you don't mind paying a monthly fee for certain features.
page revision: 18, last edited: 10 Nov 2016 17:16